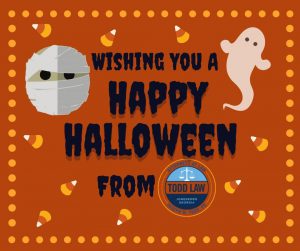 Whether you are on the road, trick-or-treating, or passing out candy at home, Halloween is a time to pay extra attention in order to prevents accidents and injuries. Using these helpful tips can keep everyone safe and enjoying the fun. 
Halloween safety tips for drivers
We put a lot of emphasis on encouraging kids to be smart while trick-or-treating to avoid serious injury. But it is also important to remember that as drivers, we have just as much of an obligation to keep our community's kiddos safe from harm. This Halloween season and during any time when pedestrians are around, make sure that you: 
Slow down in residential neighborhoods, even if that means going under the speed limit
Constantly be on the lookout for children, especially when it is dark, and costumes are not as bright
Anticipate kids and pets running into the street. We hope it never happens, but it's safe to be prepared
Use extra caution when entering or leaving parking lots and driveways.
Keep your headlights on, even during

 

daylight

 

hours.
Never drive distracted. Put down the phone, turn down the radio, and keep your eyes on the road.
Halloween safety tips for kids
Unfortunately, we see serious injury accidents all the time in our line of work and we don't want to add another child to the list this Halloween! Make sure your kiddos remember the following when they go out tonight:
Use the buddy system. Children should trick or treat in groups, not alone.
Make sure to be seen. Use reflective tape, flashlights, and glow sticks so children are visible to cars.
Walk on sidewalks. Make sure to use crosswalks and cross signals if crossing the road.
Make sure your child's costume fits well so they don't trip or fall.
Remove masks when crossing the street.
If no sidewalk is available, walk in the grass and walk facing traffic.
Halloween safety tips for pets
With so much attention put on keeping kiddos safe during Halloween, we sometimes forget about the furry members of our family. Here are nine ways to make sure your pet also stays safe tonight and every Halloween!
Keep Halloween treat out of reach, especially chocolate, which can be extremely dangerous for dogs.
Trick-or-treaters might be scary to your pets, so keep them away from your front door.
Using electric candles instead of real ones can prevent Fido from knocking them over and causing a fire.
Decorations look delicious to pets, so keep them up!
Glow sticks are dangerous, so keep them away from pets.
Instead of leaving your pet outside, bring them in to eliminate the chance that anyone messes with them or that they run away.
Make sure you dog has his tags and your phone number securely on his collar in case he gets lost.
If you are dressing up your pet, double check it for choking hazards.