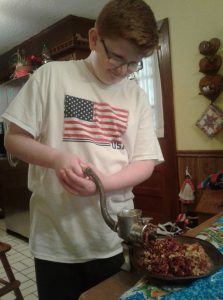 Congratulations to Amanda Swanson of Decatur who submitted her great-great grandmother's recipe, Nan's Cranberry Sauce, in our Family Recipe Contest and won a $100 Kroger gift card!
Pictured is Amanda's son, Patrick Lee, using the same grinder used by his Great-Great Grandmother (and possibly even her mother!) to make the recipe that has been passed down for six generations. Read Amanda's submission and check out the recipe below!
"My grandmother used a recipe that her grandmother used so it has been around for quite some time! My grandmother passed away in 1997 and one of my favorite childhood memories was how her kitchen always smelled during the holidays. The fragrant aroma of all of the various items cooking was always so wonderful. I love being able to pass along the recipes of past generations. When we make this cranberry sauce, we use an old meat grinder to grind the cranberries and oranges. It has been in the family for at least 5 generations. Making this recipe is a 'sweet' way to connect with our past and keep traditions alive!"
Nan's Cranberry Sauce
Ingredients
12 ounces cranberries (washed and drained)
2 seedless oranges
1 cup sugar
½ to ¾ cups orange juice
Directions:
Quarter the oranges and leave on the skin. If you have an old-fashioned meat grinder, pour your cranberries and orange segments in and grind. If not, you can put in a food processor until coarsely chopped/ground.
Put the cranberry/orange mixture in a medium saucepan, add ½ cup orange juice and 1 cup of sugar. Bring to a boil.
Reduce heat and stir while on low for about 15 minutes.
*Another variation of this recipe is to leave the cranberries whole, but chop/grind the oranges. Add the mixture to the sugar and OJ and cook until the cranberries burst. Continue to simmer on low and stir for 15 minutes. Either way is great! If the mixtures appear too thick, add a little more OJ or even a little water.*
Congratulations also to our three runners up, who each received a $25 Kroger gift card! Check out their favorite family recipes below and why the dishes mean so much!
Holiday Sweet Potato Pies, submitted by Deidre Thurmon
"This recipe is special to our family because it's made by mom, Joyce. It's highly requested not only by us, but by my extended family and some friends as well. Growing up, I was always the one (out of 4) hanging around in the kitchen on the night before Thanksgiving helping with the cooking. Or more so, just there as a taste tester lol. That was some of our bonding time. The sweet potato pie is a staple in our family, and it gives all the thankful, happy, warm feelings inside."
Ingredients
3 ½ cups mashed cooked sweet potatoes
½ cup margarine, softened
2 cups sugar
4 eggs
½ teaspoon nutmeg
½ teaspoon salt
2 teaspoon lemon extract
1 – 13 oz can evaporated milk
2 unbaked 9-in pie shells
Directions
Combine sweet potatoes, margarine, and sugar in mixer bowl; beat until smooth.
Add eggs 1 at a time, mixing well after each addition.
Stir in nutmeg, salt, lemon extract, and evaporated milk. Pour into pie shells. Bake at 425°F for 20 minutes. Reduce temperature to 325°F. Bake for 30 to 45 minutes longer or until set. Yield: 2 pies.
Joyce's Good Ole Dressing, submitted by Sherry Wyatt
"My mother always made this every year….always loved to watch her test it to see if it was done..lol CONTINUE BAKING SHE WOULD SAY!!! IT SURE WAS GOOD TO EAT!"
Ingredients
1 full recipe Southern Buttermilk Cornbread (here's a good example)
3 buttermilk biscuits
1 teaspoon salt
1 teaspoon black pepper
3 large eggs
1 medium onion diced
2 stalks celery diced
½ cup butter
4 cups cream of chicken soup
6 cups chicken stock
Directions
Preheat oven to 350º F. Crumble all of the cornbread and biscuits into a large bowl. Add salt, pepper, eggs, onion, celery, butter, cream of chicken soup, and chicken stock.
Stir until well-combined.
Pour dressing into two 9×13 baking dishes and bake until lightly browned, about 30 – 45 minutes.
To test doneness, shake casserole dish lightly. If the center of the dressing moves, then the dressing is not cooked through in the center. Continue to bake until the dressing is set throughout.
Coconut Cake, submitted by Sherree Buchanon
"My Aunt Clara always made this coconut cake for special occasions especially major holidays. She's gone now and I kind of took over making this special cake to continue her tradition."
Ingredients
1-2-3-4 Cake Recipe
1 cup butter room temperature
2 cups sugar
3 cups all-purpose flour, sifted
4 eggs
1 cup whole milk
1 Tablespoon baking powder
1 teaspoon pure vanilla extract
½ teaspoon salt
7 Minute Frosting
1 ½ cups sugar
¼ teaspoon cream of tarter or 1 tablespoon white corn syrup
1/8 teaspoon salt
1/3 cup water
2 egg whites
1 ½ teaspoons pure vanilla extract
Sugar Syrup
**You'll also need at least 3 bags of frozen coconut to add between the layers and top of the cake. You could use packaged coconut but the frozen is the best.**
Directions
For the Cake:
Preheat oven to 350°F degrees. Grease and flour (3) 9-inch cake pans.
In a large bowl beat butter until fluffy and smooth. Add sugar to butter and beat on low for 6-8 minutes. One at a time add eggs, beating after each addition.
Sift flour, baking powder and salt together. Alternate adding flour mixture and milk beating after each addition. You'll want to begin and end with flour. Stir in vanilla until mixed through.
Pour equal amounts in pans and level batter.
Bake for 25-30 minutes then cool for 5-10 minutes before inverting on a cooling rack. Cool completely.
For the Frosting:
Put all of the ingredients except the vanilla extract in the top of a double broiler.
Beat for 1 minute.
Place pan over boiling water but do not allow the boiling water to touch the bottom of the pan or the icing could become grainy.
Beat for 7 minutes on high speed, then add in vanilla.
For the Sugar Syrup:
Boil one cup of water and one cup of sugar until it thickens and becomes syrupy.
To Assemble the Cake:
Place a dollop of frosting in the middle of the cake plate to prevent cake from shifting.
Cut strips of wax paper and place around outside of cake plate so that the wax paper will be under the very edge of the bottom layer of cake. By doing this you will keep your cake plate nice and clean. Only place the wax paper around the very edge of the cake because as you add layers and frosting the cake gets heavy and it will be hard to remove if it's too far under the cake.
Place layer number one on cake plate, then spoon just enough sugar syrup mixture over cake to cover the top layer (this makes it really moist). You don't want it dripping off, just enough to soak in.
After the sugar syrup, frost layer with 7-minute frosting.
Add coconut on top of 7-minute frosting.
Add layer number two and repeat process. When you get to the last layer, you'll cover the entire cake with 7-minute frosting and then add coconut generously all over.